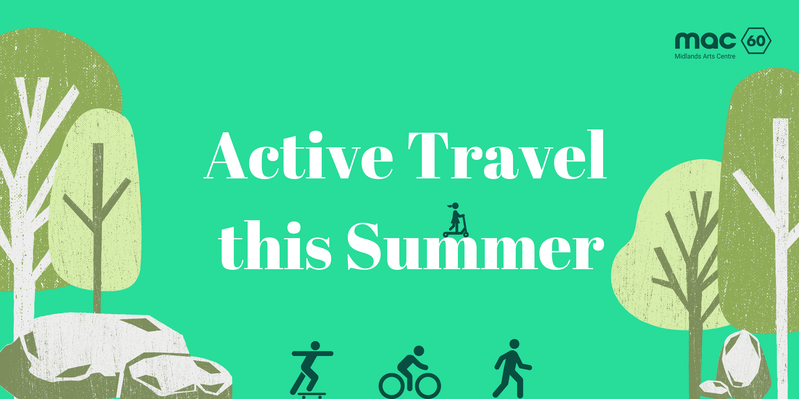 At MAC, we're passionate about finding ways to reduce our impact on the environment.
Over the next few months, we'll be launching an Active Travel campaign to encourage audiences to consider how they reach us at MAC and share info on the benefits of 'going green'.
Keep your eyes peeled for more info on what we're doing to promote wellbeing and sustainably.
Cannon Hill Park
We're homed in Cannon Hill Park, which is made up of 80 acres of formal parkland and 120 acres of conservation and woodland plantation. Cannon Hill Park has been awarded Green Flag status for the last 10 years as one of the best green spaces in the UK.
What is Active Travel?
Active Travel involves making the idea of making sustainable choices when it comes to choosing how you travel on your journeys. This can be switching to walking, cycling, getting the bus or even an e-scooter.
Whether big or small, each green adjustment can help us make a massive difference to our environment's health. 
As stated before, MAC's campaign mission is to help to encourage audiences to consider how they reach us at MAC - see below how you personally can make a change.
Cycling 
MAC is lucky to be situated on the Rea Valley Cycle Route, meaning our visitors are able to get here by bike. We have recently installed new bike racks on our terrace that are also right outside of KILN Café, so visitors can park their bikes with more ease whilst visiting us. Cycling has great health and environmental benefits.
In terms of staff here at MAC, a recent staff survey showed that 16% of respondents regularly cycle to work. In June 2015, with funding from Birmingham City Council's Top Cycle Location Grant, we had a secure cycle shelter installed for staff.
MAC has been awarded a Birmingham Cycle Revolution Silver Top Cycle Location award for encouraging staff cycling.
Dr Bike
Alongside Birmingham Cycle Revolution we have held several 'Dr Bike' events, where staff were able to have their bikes serviced and security marked. Staff also attended bike maintenance training. We were joined by Cannon Hill Cycling Club (Dr Bike) again during our 2021 EcoFest.
Dr Bike will be back this summer for another free pop-up event at MAC on 25 June and 23 July (a week before the Commonwealth Games!). They will be here between 9am - 1pm. 
With the Games starting, our car park is expected to be very busy - so why not switch to bike? 
Public & Alternative Transport
MAC is located next to several bus stops to which home National Express services that can take you to the City Centre, Five Ways, Longbridge and more.
Switching to bus can save people a lot money especially due to current the cost of fuel not expected to lower any time soon. Additionally, If more of us switched to taking the bus, there would be way less traffic on the roads and a detrimental dip in carbon emissions. Research has shown that a passenger car carrying one person emits 89 pounds of CO2 per 100 passenger miles, while a full bus emits only 14 pounds. 

Alternatively, it's worth noting that our car park is situated next to a Voi scooter rack, meaning that you can park up right outside our venue after your trip and there's no extra walking needed to find a safe rack!
E-scooters are a great environmentally friendly switch that you can make from car, and sometimes faster due to the ability to avoid traffic. Edgbaston also offers a cycle lane along the Bristol Road and there is also currently works right outside MAC for a new dedicated cycle path, removing the worry of having to travel alongside cars. 

Find out about bus services and more information on getting to MAC here.
MAC champions sustainability throughout as much of our programme as possible. An example of this can be seen through our Creative Courses.
It's worth mentioning that we recycle and repurpose all of clay from our Ceramic Courses, so that none goes to waste. We also encourage people to bring in pre-loved fabrics for any Textile Courses, again to prevent waste and promote up-cycling.
In addition, we are offering sustainability specific courses such as Electro Etched Copper Key Rings, where you can create your own customised piece of jewellery, all through using a repurposed phone charger. This course runs from 10am - 3pm on Tuesday 23 August 2022.
Another environmental orientated course we have occurring this year is Young Sustainable Fashion Designers, on this 5-day course you will learn all about fashion design, how to sew and make your own unique garments from existing material, old clothes, combine them new cool embellishments to make designer fashion pieces that respect the planet. Running from 10am - 3pm between Monday 8 – Friday 12 August 2022.
See our free activity pack designed for young explorers and active travellers on their adventures around Cannon Hill Park.
Make sure to keep a lookout in the pack for the chance to win 2 free tickets to our Cinema!
Competition entries must be submitted by 22/08/22.
Active Travel Children's Activity Pack