Supporting music leaders and teachers making music with children and young people with social, emotional and mental health difficulties (SEMHD)
---
Dr Phil Mullen and Sound Society CIC have partnered with us to provide training, reflective mentoring and other CPD support to music leaders and teachers across England that are making music with young people with social, emotional and mental health needs (SEMHD).
The project will support two groups of music leaders / teachers:
Those working with young people with SEMHD who have been or are at risk of school exclusion
Those working with young people who have or are at risk of mental distress at least in part because of the coronavirus lockdown
---
The Challenging Voices programme will be delivered in partnership with Music Education Hubs across the country. If you are interested in finding out more about the programme and our wider opportunities for Music Education Hubs then please get in touch:
---
Challenging Voices Team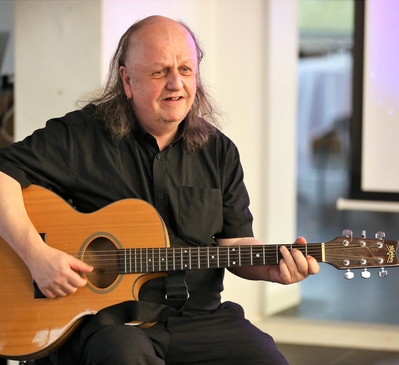 Dr Phil Mullen, Pedagogical Director
Project Lead & Director, Sound Society CIC
Phil Mullen is a director of Sound Society CIC. Phil has spent twelve years working with children with SEMHD and training music leaders to do this work. Phil's PhD, from Winchester University, is on music making with young people excluded from school because of their behaviour.
Ann Jones, Key Deliverer
Music Leader, MAC Makes Music
Ann Jones is a core MAC Makes Music facilitator and trainer with over 25 years' experience of working in alternative provision and pupil referral units with young people who have been excluded. She is committed to helping all participants find their musical voice and enabling other musicians to work inclusively. She has a particular interest in women and girl's musical inclusion.
---
Challenging Voices is supported through funding from Agrigento and Youth Music, via MAC Makes Music's Fund C grant. With this support, Challenging Voices has been able to offer a highly subsidised offer to participating Music Education Hubs. 

---