Hazel Pitt biography
I am an artist/illustrator engaged in the process of creating illustrations via the medium of hand generated photomontage. I am particularly interested in using science, philosophy and spirituality as the basis for my design work.
A teacher of Graphic Design for 15 years in both Further and Higher Education, post Masters degree I am focusing on developing workshops and courses in Photo Montage. My industrial experience includes working in a freelance capacity as a graphic designer in the music industry. My main commissions during the 80's and 90's being for Polydor Records and Universal Studio's. This work involved record sleeve design and a wide range of promotional material such as adverts for the major music press, stage set design and fan club merchandise.
Working with both my own photography and found imagery, I experiment with cut paper, using geometry, texture, scale and light in an attempt to disrupt the senses.
I attended Hazel's Art Therapy Workshop last week, the second of which I have attended. I thoroughly enjoyed the experience. She began by giving us an overview of her own work experience in the art world and showed us examples of how she had used photo montage in her work.

She then explained clearly and patiently how to make a photo montage, emphasising that it was our own piece of work and we could be free to be creative and do whatever we wanted. During the activity Hazel also came round to all of us individually, showed interest in our work, and also us as individuals, and encouraged us.

I got completely absorbed in the process of thinking about my subject and going through magazines finding images that suited, and losing myself in the creativity, whilst also socialising and talking to like- minded people. I found the task great, as it was a way of expressing my creativity , using images that were already there in an artistic way, whilst also exploring my subconscious. I found it extremely relaxing and absorbing.

I would encourage anyone to take part in this activity. Hazel's delivery is excellent and she has the ability to put everyone at ease and create a comfortable environment. More workshops please!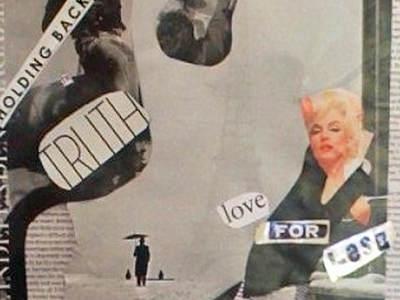 Courses taught by Hazel Pitt