Sam is a happy, dinosaur loving 8-year-old whose world turns upside down after his parents separate. As he takes himself off to the far end of the school field he meets Alex, a deaf girl with a vivid imagination - and an impressive collection of dinosaurs. Bonding over boring packed lunches and their favourite fierce T-Rex, the pair form an unlikely friendship. When things at home become too difficult for Sam, Alex whisks him away on an astonishing adventure to meet the almighty Stan, the gigantic T-Rex at Manchester Museum.

Featuring awesome animated dinosaurs, Stan is written and performed in English and British Sign Language and embeds creative captions within the set.
After the performance, there will be a free 30-minute workshop to help young audiences to understand and explore the play's key themes. The workshop has been made with both deaf and hearing children in mind and will be BSL Interpreted. Children can get involved as much or as little as they would like.
A powerful and poignant new play by Sarah Emmott, Stan celebrates the power of play, the joy of communication and the positive force of friendship - think Pixar's Inside Out meets Night at the Museum, Stan is well worth a visit this spring! 
The play running time is 50 min without an interval.

Please Note:
Stan explores themes of parental separation, and there are 5 minutes in which loud dinosaur noises are played intermittently. Ear defenders will be available. However, if you own a pair please bring your own.
---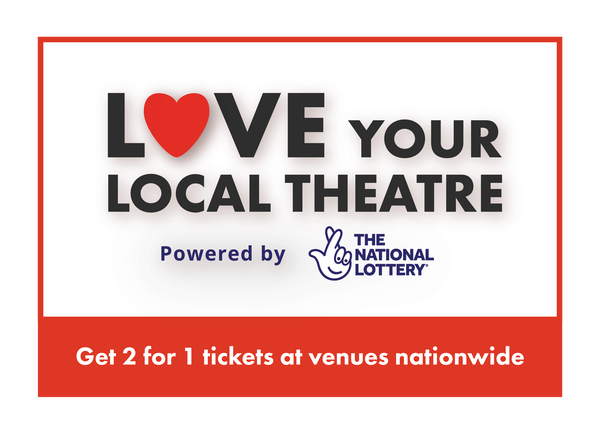 2 for 1 Ticket Offer for National Lottery Players

Thanks to support from The National Lottery we are proud to introduce the Love Your Local Theatre campaign. When you buy a ticket for Stan you get another free ticket courtesy of the National Lottery.
Use the promocode LYLT241 to get 2 for 1 tickets - simply enter the code when you check out online or book at our Box Office. 2 tickets per customer, first come, first served.
By purchasing this ticket I declare that I am a National Lottery player and that I agree to bring proof of purchase of a National Lottery product in digital or hard copy form when I attend the performance and that I understand that I may be asked to present this.

This promotion is available to anyone who is a National Lottery player and possesses a National Lottery product. This campaign and promotion is run by UK Theatre. The money for this initiative is coming from a National Lottery promotional fund. It is not being funded by money allocated for National Lottery Good Causes or by Camelot.
---
A lovely, warm-hearted bear hug of a show


British Theatre Guide
Powerful, timely and valuable.


Teacher
Exceptional, inclusive, important and joyful. 


Audience Member