Due to current circumstances - BAM will now be moving online. Check out their facebook page for more info.
For babies 0-18 months and their families and friends.

Bring your baby for a bounce with singer Sam Frankie Fox and multi-instrumentalist Ricardo Rocha. This warmly interactive performance for babies, families and friends celebrates music with a host of instruments, styles, gentle movements and stimulating sounds. Performances feature harp, diatonic accordion, a range of stringed instruments, songs in different languages and lots lots more.
"A spellbinding experience. Totally engaging for babies and toddlers"  Audience review.
30 mins performance + 15 mins exploring the instruments. 
Please leave plenty of time to arrive at this event.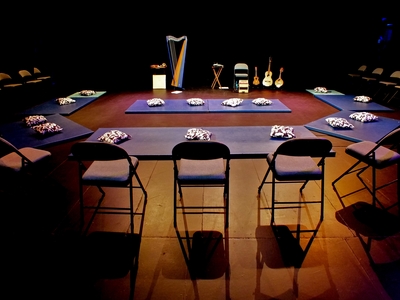 ---
Really beautiful show. My 13 month old was mesmerized and was doing her own version of singing and dancing along by the end! Not your usual baby session. So lovely to be able to see brilliant professional musicians playing beautiful music with my little one, been a while since I've been able to go to a concert, so it was lovely for me too.

Facebook comment