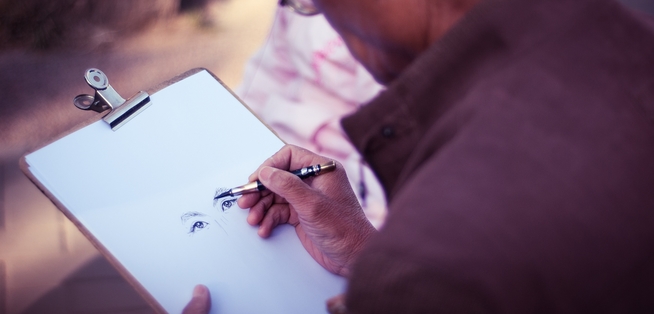 Painting, Drawing & Print
Contemporary Portraiture (VA13 Spring)
Various Dates
Online booking has now closed.
Call 0121 446 3232 to enquire about remaining places
Working directly from a life model, explore traditional and contemporary portraiture.
What will you learn on this course?
This is a flexible course for students interested in contemporary approaches to drawing and painting portraits. You will learn drawing and painting skills including measurement, proportion, line, tone and colour. You will have the opportunity to explore the use of different art materials such as pencils, charcoal, pastels, acrylic paint and watercolour.
You will work directly from a clothed professional life model. We employ a range of different male and female models for our life drawing and painting courses. We usually have the same models sit for two consecutive weeks.
The artist tutor gives each student individual attention, according to their experience, aptitude and specific goals, supporting them to find their own creative direction. For beginners, and others who wish to follow it, there is a weekly structured course consisting of group projects. The tutor will demonstrate a basic art material technique, show examples of his own or other artists' work and support students as they try the technique themselves. Students may also spend time developing a particular approach. More experienced students, or those returning to the course, are welcome to undertake their own projects with the knowledge that a professional artist tutor is available to offer input and support in reaching your goals.
These sessions are an excellent opportunity to further your individual drawing and painting in response to a life model. Gaining an insight into how the human form can be a fascinating ongoing topic for artistic study in its own right. 
This class includes a short break.
Who is this course for?
This course is suitable for adults aged 18+ years. It is open students of all levels. Everyone will be assisted individually based on their existing experience. It is expected that most students will have some general experience of drawing, even if they are beginners at portraiture. However this course can be used as a refresher for basic drawing techniques with reference to a portrait model. Returners are welcome to initiate their own projects with tutor support and feedback as required.
The course is accessible for people with disabilities as the room is wheelchair accessible and a support worker or carer may assist. Carers must book a complimentary ticket if attending a course to provide support. Please contact us to discuss your specific situation and needs.
Do you need to bring anything?
The painting and drawing studio is equipped with easels and drawing boards. Paper is provided that can be used during the lesson, and some basic art materials that may be borrowed on the day.
MAC can provide basic equipment to participants attending this course if needed, although attendees are encouraged to bring their own where possible to minimise the risk of COVID-19 transmission.
Are there any additional costs?
As the course progresses students should expect to provide some of their own art materials that they bring to the class at their own expense.
Who teaches this course?
Paul Bartlett