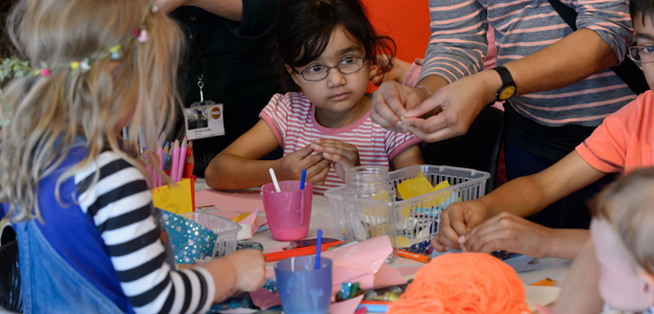 Children & Family
Crafty Automata
Various Dates
Online booking has now closed.
Call 0121 446 3232 to enquire about remaining places
This workshop introduces you to cams and cranks so you can make a simple mechanical toy that moves when you wind the handle. We'll start by looking at some ingenious examples of automata through the ages, then we'll design and construct our own moving mechanism. This is topped off by drawing, colouring, collaging, cutting, sticking and assembling to make a crafty moving toy that's as impressive as it is entertaining.
Who is this course for?
This course is suitable for children aged 6 to 11 years. It is open to all ability levels and children don't need previous experience of making masks. Parents are not expected to accompany children on these courses. All our staff are DBS checked.
The course is accessible for children of all abilities who can participate in practical art and craft activities. We can provide a learning support worker and a parent or carer may assist their child if required. The room is wheelchair accessible.
Age ranges are set carefully to take into account key age developments, materials being used and course stimulus. It is very important that age ranges are not too large or across key stages and therefore need to be adhered to.
What will you learn on this course?
This is a fun one-day workshop where children will learn how to make their own crafty automata, cams and shafts
With individual support from the tutor, the children will be guided through the process of designing and constructing their automata out of cardboard and paper, including 3D details and features. The masks will be given a skin of brightly coloured tissue paper using a technique called decoupage and then decorated with a variety of crafty materials.
Do you need to bring anything?
Children need to bring their own lunch to eat on a supervised one hour break. All course materials and equipment are provided.
Are there any additional costs?
There are no additional costs for this course.
Who teaches this course? 
Benny Semp