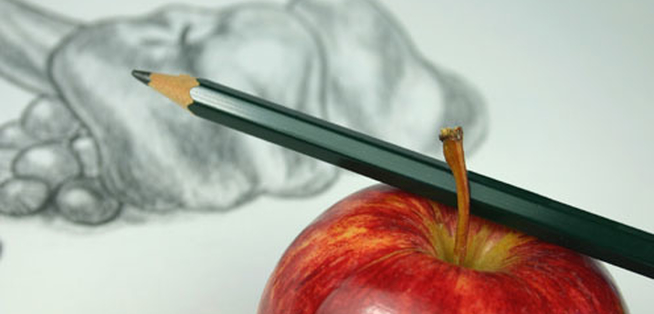 Painting, Drawing & Print
Drawing Techniques (VA03 Spring)
Various Dates
Online booking has now closed.
Call 0121 446 3232 to enquire about remaining places
Develop your drawing and observational skills while exploring the art of working with graphite pencils, charcoal pencils, pastel pencils and coloured/water soluble pencils. It is an opportunity to try things out that can give satisfaction for many years to come. Students are encouraged to return to the same course so they can take each technique further.
What will you learn on this course?
This is a structured course that will guide you through the use of a range of pencils such as graphite pencils, charcoal pencils, pastel pencils and coloured/water soluble pencils.
You will gain drawing skills in line, tone, form and colour along with measurement of proportions.
You will work with a variety of intriguing subject matter chosen to facilitate specific learning goals of individual lessons. These will include;
• direct observation still-life
• natural forms
• a life model
• a portrait model
• and a number of experimental projects to tap into your creative imagination.
This course focusses on learning by art practice. Each week the tutor will set a specific project. He will demonstrate a basic technique supported by completed examples of artists' work. Students will then undertake a practical exercise to learn and apply the technique themselves with individual support and guidance from the tutor. Each lesson builds on the previous one, gradually developing your skills and understanding.
On completing this course you can expect to have a range of drawings of different subjects demonstrating your understanding of basic drawing techniques and the use of different types of pencil.
This course aims to offer a relaxed environment, conducive to informal conversation and quiet concentration where students can progress with their individual creative journey.
Who is this course for?
This course is suitable for adults aged 18+ years. It is designed for students who wish to improve their drawing techniques and skills.
Students with some previous drawing experience will benefit from this course and it is suitable for those wishing to start from simple beginnings, then accumulatively put together more techniques as the course progresses.
The course is accessible for people with disabilities. The room is wheelchair accessible and a support worker or carer may assist. Carers must book a complimentary ticket if attending a course to provide support. Please contact us to discuss your specific situation and needs.
Do you need to bring anything?
The painting and drawing studio is equipped with easels and drawing boards. Paper is provided that can be used during the lesson, and some basic art materials that may be borrowed on the day.
Students are encouraged to bring their own objects and still life and you may wish to bring additional art materials to work with.
MAC can provide basic equipment to participants attending this course if needed, although attendees are encouraged to bring their own where possible to minimise the risk of COVID-19 transmission.
Are there any additional costs?
As the course progresses students should expect to provide some of their own art materials that they bring to the class at their own expense.
Who teaches this course?
Paul Bartlett