Mozart's take on the glittering Orient: a stirring tale of abduction, escape and forgiveness.
Live from Glyndebourne – the home of Mozart – comes a new production of Die Entführung aus dem Serail (The Abduction from the Seraglio), the opera in which the 25-year-old composer is often said to have found his mature voice.
Both a popular comedy and a compassionate Enlightenment drama, Entführung tells the story of one man's attempt to rescue his beloved from the harem of a Turkish despot and his fall to the mercy of his nemesis.
The opera's East/West clash and its surprising resolution defies all stereotypes and strikes a startlingly contemporary chord. Directed by Glyndebourne favourite David McVicar (Die Meistersinger von Nürnberg, Giulio Cesare) and conducted by Music Director Robin Ticciati, this new production features a stellar cast including Sally Matthews as Konstanze, Edgaras Montvidas as Belmonte, Tobias Kehrer as Osmin and Mari Eriksmoen as Blonde.
Glyndebourne has been making exceptional world-class opera since 1934. Join us for our 81st Festival; a summer of unconquered passions, divided loyalties and political intrigue. Also on screen this season, two award-winning triumphs: Laurent Pelly's breath-taking Ravel Double Bill and star of stage and screen Fiona Shaw's take on Britten's haunting The Rape of Lucretia.
Cast and creative team
Creative team
Conductor Robin Ticciati
Director David McVicar
Designer Vicki Mortimer
Choreographer Andrew George
Lighting Designer Paule Constable
Cast includes
Konstanze Sally Matthews
Belmonte Edgaras Montvidas
Osmin Tobias Kehrer
Blonde Mari Eriksmoen
Pedrillo Brenden Gunnell
Orchestra of the Age of Enlightenment
The Glyndebourne Chorus
Synopsis
The young Spanish noblewoman Konstanze has been abducted by pirates together with her English maid Blonde, and Pedrillo, valet to her betrothed, Belmonte. Landing on the shores of Turkey, they have been sold as slaves to Pasha Selim. Originally a Spanish subject himself, he has become a 'renegade', a convert and prospered in Turkey. He has fallen in love with Konstanze. Pedrillo has smuggled letters out to his master and Belmonte has sailed from Spain to try to rescue them.
Act I
Finding himself outside the country house of the Pasha, Belmonte encounters the surly overseer Osmin, who answers his questions with belligerent suspicion before chasing him off. Pedrillo, now working in the Pasha's gardens is in love with Blonde but she has been given as a slave to Osmin. The two men jealously loathe each other and Osmin makes it clear the fate he believes Pedrillo deserves.
Left alone, Pedrillo spies Belmonte. Master and servant are overjoyed to see each other again and Pedrillo quickly concocts a plan to gain Belmonte admission to the palace. Belmonte is, though horrified to learn that Konstanze is beloved by the Pasha, who seeks to make her one of his wives.
The Pasha arrives with Konstanze, who is sad and pensive. Selim assures her that he will never seek to force her love but is hurt and angry when she confesses her love for Belmonte. He gives her one more day to consider.
Pedrillo introduces Belmonte to the Pasha as an architect who hopes to gain employment in the palace. Selim invites him to stay and talk in due course. Osmin appears and tries to bar their way but the two men push him aside and enter the palace grounds.
Act II
Blonde does her best to keep the amorous Osmin at bay. As an Englishwoman, she refuses to accept her condition of slavery, to Osmin's huge frustration.
Konstanze thinks sadly of Belmonte but the time allotted her by the Pasha is up. Her refusal to love him makes the Pasha explode in anger, threatening her with violence. Konstanze is defiant and Selim is confounded once more.
Pedrillo and Blonde steal a few moments together and he tells her of the escape plans. She is overjoyed and rushes off to tell her mistress. Pedrillo drugs some wine and persuades Osmin to drink with him. The sleeping draught soon takes effect and Osmin is safely put out of the way. In the utmost secrecy, the lovers finally are re-united. The plans are quickly discussed but joy soon gives way to doubt as Belmonte and Pedrillo ask questions about their respective lovers' fidelity. The two women are wounded and angry. The men beg forgiveness and peace and joy are restored.
Act III
Late at night outside the palace, Belmonte's Dutch sea captain Klaas helps with the ladders for the escape. As he waits for the appointed hour, Belmonte thinks of Konstanze with rapture. Pedrillo gives the signal with a serenade. Konstanze descends from her window and she and Belmonte make for the harbour but when Pedrillo tries to rescue Blonde, Osmin suddenly appears and they are discovered. Guards drag Belmonte and Konstanze before him and Osmin gloats in bloodthirsty triumph.
The Pasha is roused by the alarm. Belmonte reveals his identity and offers to pay a ransom; his family is wealthy and noble and his father's name is Lostados, the Commandant of the Spanish colony in Oran. Selim recognises Belmonte as the son of his sworn enemy, who once destroyed his happiness and drove him from his homeland. He leaves to consider his revenge. Belmonte and Konstanze resolve to die with courage together.
Selim returns and delivers his judgement. He will not stoop to the level of Belmonte's father. All four are given their freedom and he renounces his claim on Konstanze. Osmin rushes away in rage. The mercy and humanity of the Pasha are praised and the lovers leave.
David McVicar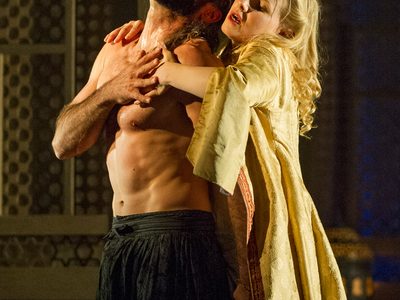 mac birmingham is serious about film. We listen to our audiences to ensure you get the cinema experience you want. Please note that we do not admit latecomers after the main feature has started, and we have a limited food and drink policy. For more information on our refreshments policy, please visit https://macbirmingham.co.uk/cinema-refreshments-fa....