A story about learning to care about the world, its people and its natural resources. Join an interactive adventure dripping with fun, unexpected twists and turns, and watery surprises.
Maya LOVES water! Swimming in the sea, splashing in her paddling pool, squirting her sister with a water pistol... 
But, one summer day, she gets sucked up the bathroom tap <SQUOOSH!> and along the water pipes! <WHOOAAHHHH!>
She gets spluttered out in a new land. A pair of shoes appears. It's as if they've been waiting for her... She puts them on, and they start to walk! They take her on an exciting journey, whooshing through oceans, plunging into rivers and floating in clouds. She encounters a flood, a drought and fascinating people and creatures who live in and by water.
Maya begins to think again about water. How there can be too much, too little, or when it's too dirty... And maybe, just maybe, she can do something to help. And that maybe we can help, too...
Onstage, there's a paddling pool full of water, a water pistol fight (don't get squirted!) and the mesmerising sounds of an aquaphone, African mbira and hammered dulcimer. Plus a loopstation for us all to make watery sound effects and beatboxing rhythms – all created live during the show! 
Gulp! follows a child's natural curiosity to find out and understand more about the world beyond their own life experience, it's also a story about the beauty and challenges of water in an age of oil, plastic and climate change. 
---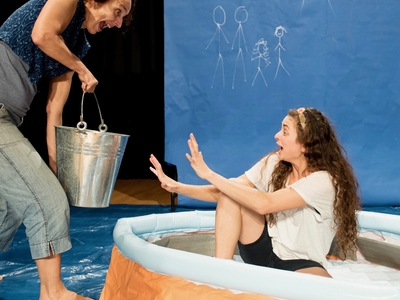 ---
Gulp! is funded by Arts Council England, Severn Trent Water, University of Birmingham and Feeney Trust.
Gulp! is supported by Midlands Arts Centre, Arena Theatre Wolverhampton and artsdepot.
---
Gulp! is suitable for d/Deaf audience members, people with hearing impairments, and also audiences with English as an additional language. 
Please be aware the performance on Sun 29 September will be filmed. Further information will be provided at the event.