An adventure story about water
Maya LOVES water! Swimming in the sea, splashing in her paddling pool, squirting her sister with a water pistol... But, one summer day, she gets sucked up the bathroom tap - SQUOOSH! - and along the water pipes! WHOOAAHHHH!
Maya goes on an exciting journey, whooshing through oceans, plunging into rivers and floating in clouds, encountering a flood, a drought and fascinating people and creatures.  
Gulp! is an interactive story for all the family dripping with fun!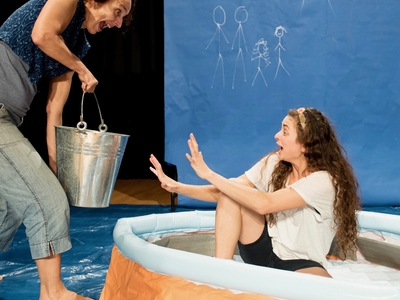 ---
Gulp! is funded by Arts Council England, Severn Trent Water, University of Birmingham and Feeney Trust.
Gulp! is supported by Midlands Arts Centre, Arena Theatre Wolverhampton and artsdepot.
---
Gulp! is suitable for d/Deaf audience members, people with hearing impairments, and also audiences with English as an additional language.