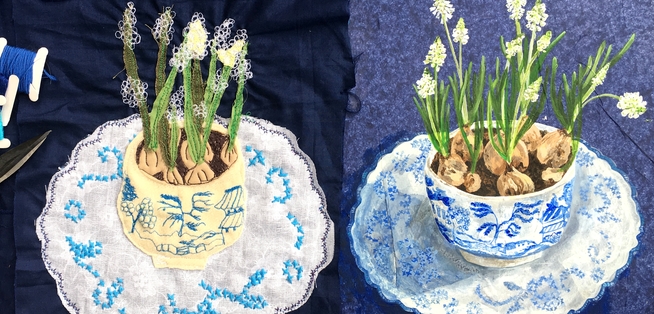 Textiles & Crafts
Illustrative Stitch: Still Life Painting
Various Dates
Online booking has now closed.
Call 0121 446 3232 to enquire about remaining places
Embroider a piece of fabric art using stitches made by hand or machine to draw and paint with thread.
What will you learn on this course?
Use embroidery to create fabric art work
Learn or extend your knowledge and ability to use simpler stitches for the beginner or more complex ones for those who wish to extend their embroidery skills.
how to choose and carry out the best effect using the most appropriate stitch by hand or machine.
develop an understanding of the relationship between the drawn or painted line and the stitched one,
Use simple applique methods using fabrics to collage with
Build on any existing knowledge and practice you have of free motion machine embroidery to create your fabric work of art
 The tutor will use a mix of group demonstrations, individual support and the examples from her own practise to guide you through the processes explaining the materials and teaching the techniques.
You will receive individual support on your work and how to realise your ideas as required.
Who is this course for?
This course is suitable for adults aged 18+ years and is open to all levels.
The course may be accessible for people with disabilities and a support worker or a carer may assist. Carers must book a complimentary ticket if attending a course to provide support. The room is wheelchair accessible. Please contact us to discuss your specific situation and needs.
Do you need to bring anything?
All course materials and equipment are provided.
You are encouraged to work to your own still life project and so please bring a picture of a still life artwork you wish to re-create or a still life painting or drawing of your own to reference during the day.  

Are there any additional costs?
There are no additional costs.

Who teaches this course?
Claire Leggett