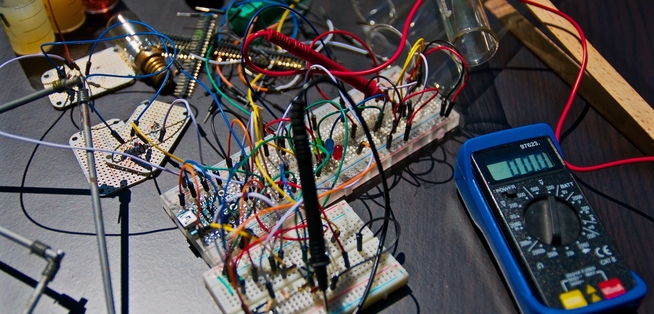 For Children & Family
MAC Creative Camp: Kinetic Electronic Art
Various Dates
Online booking has now closed.
Call 0121 446 3232 to enquire about remaining places
Spend 3 days learning how to design and make a piece of kinetic or moving art work using motors, lights, sensors and sounds.
What will you learn on this course?
This course will introduce you to creative electronics using motors, LEDs and Arduino coding. You will understand the process of developing a simple circuit, how to programme motors to make your kinetic art come to life, all with creative arts and crafts materials.
This course is taught by tutor Catherine Jones who is a practicing artist with extensive experience and strong links in the entertainment and creative industry. Using a combination of practical design demonstrations and 1-2-1 support you will receive guidance tailored to your individual projects and needs.
Who is this course for?
This course is suitable for young people aged 6 to 11 years. It is open to all ability levels so is suited to beginners. The class will be tailored to the participant's abilities. All our staff are DBS checked. 
The course may be accessible for children with disabilities as we can provide a learning support worker and all classes are adapted to meet the specific needs of the group. The room is wheelchair accessible. Please contact us to discuss your specific situation and needs.
Age ranges are set carefully to take into account key age developments, materials being used and course stimulus. It is very important that age ranges are not too large or across key stages and therefore need to be adhered to. 
MAC Creative Camps take place during school holidays, the camps run from between 2-5 days and offer intensive learning experiences across a variety of art forms. The last day of the camp may include a sharing event or performance for parents.
Our camps run from 10am to 3pm each day, with a 1-hour lunch break and children are fully supervised at all times by experienced DBS-checked staff.  
Optional Childcare Add-Ons 
However, we know families have differing needs so we've structured optional add-on elements to help busy parents.  
Extra Hours 
4 additional hours of supervised childcare which fit around the course or camp, so that your child's day runs from 8.30am – 5.30pm (flexible drop-off and collection times within these hours).  
During these hours we offer further fun activities and entertainment for your child including film-screenings and games, allowing them extra time with their friends. 
Please note that Extra Hours does not include any food. 
Food Package 
Breakfast 
Lunch from our Cafe Menu
Afternoon snack 
We provide vegan and vegetarian options and can cater for allergies and intolerances with notice. As an alternative you are welcome to provide a packed lunch, or if you would prefer to send your child with money to select from the café themselves, we will ensure they are accompanied by suitable trained staff. 
Do I need to bring anything?
Participants should bring bottled water or a water based drink and their own lunch to eat on a supervised one-hour break if you are not opting to purchase the optional Childcare Add-ons with or without food.
Are there any additional costs?
The course price includes a micro-processor, motors, lights and arts and craft materials to the value of £25 per person.
Who teaches this course?
Catherine Jones