This event is now fully booked, but we will be hosting more Open Mic Shows in the future. The next show will be online on Friday 28 October 2022.
A fantastic opportunity for young musicians to perform live on stage at MAC and invite up to 5 guests to come and watch!
We are looking for young people aged 10-25 who would like to share their music on stage in one of MAC's theatres. Here are some ways that you could take part:
Sing or rap to a backing track
Play a piece of music on a musical instrument
Recite a poem or share some lyrics
Perform with your band
Please note: You must complete the sign up form to take part. This is not a public event, only people on the guest list will be allowed entry. Places are limited, so if we cannot fit you in this time, we will offer you a place at our next Open Mic event.

This is an inclusive Open Mic, so all abilities are welcome. Performers will be supported by two fantastic Music Leaders and Open Mic hosts Dan Whitehouse and Liz Birch.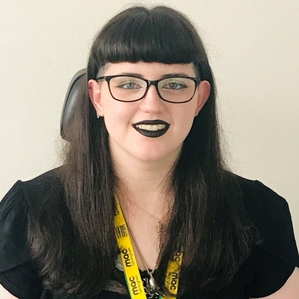 Dan
Liz
What happens next?
Once you have signed up we will send you an email to confirm your place and instructions on where to go on the day. 
Please be available from 6pm for your soundcheck. Your guests will be allowed in to the theatre from 7pm. 
Soundchecks: 6pm - 6.45pm
Performances: 7pm - 8pm
---
MAC Makes Music is committed to creating an inclusive space for music-making so all abilities are welcome. Please make sure your comments for other performers are supportive and respectful, and that your lyrics are appropriate.
Take a look at the performers we have met on previous open mic shows:
---
---