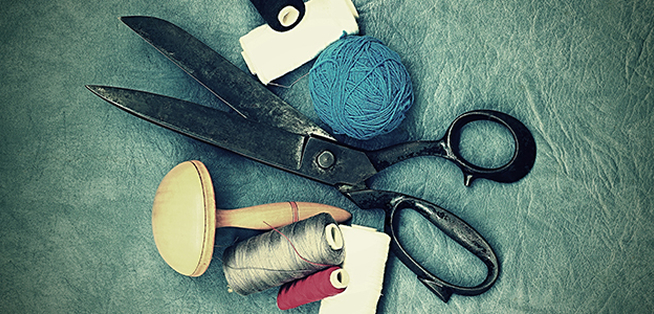 Textiles & Crafts
MAC Sewing School: Trousers
Various Dates
Online booking has now closed.
Call 0121 446 3232 to enquire about remaining places
Make it a perfect fit! Learn to make a pair of trousers from a pattern of your choice. Choose a sewing pattern that is funky or fresh, then pick a fabric that will show off your newly acquired skills in this 2-day course.

Who is this course for?
This two day course is suitable for adults aged 18+ years. We suggest that participants have some previous sewing skills.
What will you learn on this course?
During the course participants will
• Learn how to sew a coat from a pattern
• Understand the fittings techniques used in sewing.
• Continue to develop knowledge, precision and accuracy in sewing.
The tutor will give a small introduction about the class content and will give a step by step demonstration. After each step is demonstrated, the attendees are encouraged to sew that individual step alone. However, those who require additional support will be assisted by the tutor as and when questions or problem arise. Once they embark on their product development, this will then become primarily an individual project. Support will then be given as and when the attendee needs it. Step by step notes can be given to those preferring to read instructions.
At the end of the course, you will have developed skills to make your own pair of trousers. This is an intensive two day course, so please consider that in your choice of pattern.
Accessibility
The course may be accessible for people with disabilities who can undertake practical sewing activities including operating a sewing machine and using an iron. Participants will need to be able to control a sewing machine, use pins, scissors and an iron. Dexterity in hands essential. The course requires sitting at a machine or leaning over a table to cut fabric.
A full health and safety briefing and hand-outs will be given at the beginning of the workshop. A support worker or a carer may assist. Carers must book a complimentary ticket if attending a course to provide support. The room is wheelchair accessible. Please contact us to discuss your specific situation and needs.
Do you need to bring anything?
A selection of essential sewing equipment will be provided.
Please bring in a pattern for trousers and fabric of your choice.
We encourage you to bring your own sewing kit consisting of hand sewing needles, thread, tape measure, stitch ripper, pins, scissors (large and small), pens, pencils, ruler, tailors chalk.
If you own a sewing machine and prefer to use it you can have it PAT tested for a cost of £5 and bring it in to use during class. Please pay at Sales and Information prior to your course and testing will take place at the start of the first class.
Are there any additional costs?
Participants will need to provide:
• Trouser Pattern - we recommend Simplicity 1165 Women's Pull-On Trousers, Long or Short Shorts Sewing Pattern approximately £8.15 available on Amazon and other suppliers.
• Coloured cotton fabric
• Fusible interlining (Vilene)
• Fastenings - concealed or open plastic zip, hook and eyes, buttons, etc.
Who teaches this course?
Sian Riley