Somewhere, on a nowhere road, just past adrift and before you reach astray, you'll find two lost souls. Running. Running with a thing. A thing mislaid. A thing without a flock, looking for a place to belong.
Maison Foo return to MAC with their trademark style of visual storytelling, clowning and humour, with new experiments in miniature puppetry and live camera.
Inspired by stories of migration, journey and friendships on the road, A Thing Mislaid is a heartfelt tale full of footsteps, hope and an unlikely friendship between two lonely travellers and a mysterious bird.
The show will be captioned in English and Arabic and uses puppets, miniature sets and live cameras to create a visual performance that can be accessed by everyone.  

Maison Foo will host a short Q & A session after the performance for anyone interested to know more about the production and their outreach work with Refugee Friends Scheme.
Suitable for ages 10+
Commissioned by China Plate, Warwick Arts Centre, Midlands Arts Centre and In Good Company Project and Tour supported by Derby Theatre, Evan Cornish Foundation, European Regional Development Fund and using public funding by the national lottery through Arts Council England.
A Thing Mislaid is a magical and moving piece of creative theatre….Particularly inspired, indeed brilliant, are the sequences using miniature cameras operated by the performers.

Reviews Hub (4.5 stars)
Haunting….mesmerising... Maison Foo's thought-provoking quirky and timely theatre uses clowning and puppetry to explore the plight of refugees.

The Stage
My surprise hit of the (Edinburgh) Festival… touching and beautifully crafted…a little show with a big heart


Lyn Gardner, The Guardian on Memoirs of a Biscuit Tin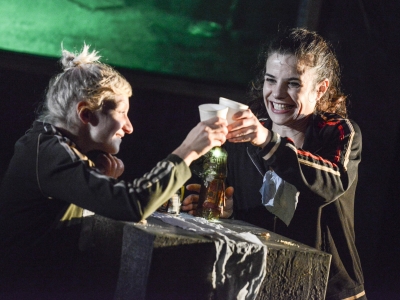 Access
This performance will be captioned in Arabic for non-English speakers, the company have also captioned this performance for D/deaf audiences supported by captioning via The Difference Engine, a downloadable app which you can download before the show. They'll be a member of the company on the night to assist, visit talkingbirds.co.uk to download and for more information.
The promo trailer is also captioned - do remember to switch captions on.