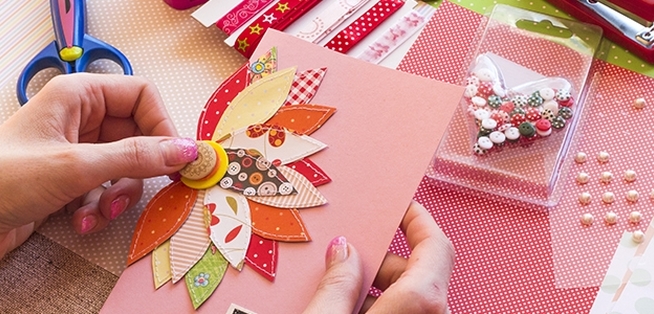 Textiles & Crafts
Paper Craft: Bunting, Garlands and Hanging Decorations
Various Dates
Online booking has now closed.
Call 0121 446 3232 to enquire about remaining places
Create simple paper decorations such as garlands, bunting, hanging, standing or table decorations for your home, for celebrations or to be given as a special personal gift.

What will you learn on this course?
This course will teach you how to use simple papercraft techniques to create stylish paper decorations for the home, for celebrations and for gifts.
You will learn basic skills for working with paper, how to cut, fold and curl paper to create decorative shapes and forms.
The day will give you the opportunity to develop your own ideas and style, for example choosing colour combinations and adapting designs to create your own decorations.
Resources and equipment used on the course are all easy to obtain if you want to carry on doing paper-craft at home. 
Over the day the tutor will take the group through 5 or 6 different projects, starting with something simple.  The tutor will explain and demonstrate each stage and allow time to go over any tricky bits.
Working through projects as a group, with plenty of tutor demonstrations and advice.
The day will build in opportunities to work at your preferred pace and to express yourself, for example choosing colours to use.  Overall, it should be fun, with plenty of opportunities to discuss and share ideas.
What will be created?
Make 5 or 6 different decorations, using a range of simple techniques.
Examples include:
garlands and bunting
hanging decorations
standing decorations
table decorations
collage pictures
papercut pictures
flowers
gift bags
cards and tags
Who is this course for?
This course is for adults aged 18+ years. It is open to beginners and improvers. It is suitable for people with no previous experience and those who wish to develop their practical skills and confidence.
The course may be accessible for people with disabilities who can participate in practical craft activities. A support worker or a carer may assist. Carers must book a complimentary ticket if attending a course to provide support. The room is wheelchair accessible. Please contact us to discuss your specific situation and needs.
Do you need to bring anything?
Everything is provided for the day, so you do not need to bring anything, but you may find it helpful to bring your own scissors suitable for cutting paper if you have these.  
Also it is useful to bring a bag or folder to transport your work home.
Are there any additional costs?
Any additional art materials are to be provided at your own expense.
Who teaches this course?
Jo Feldwick