Phoenix Dance Theatre present a culturally distinctive 21st century re-working of the iconic ballet, The Rite of Spring. For his first work created in the UK, Haitian-born contemporary and folklore choreographer Jeanguy Saintus re-envisions The Rite of Spring introducing the sacred arts of Haiti along with contemporary global issues in his bold approach to the near riot-causing original by Vaslav Nijinsky.
Left Unseen explores inclusion and isolation and how we rely on our five senses to find our place and navigate the world. In isolation there is often stillness and silence and also unpredictable disturbance and chaos. The eight dancers embody these different states creating an aesthetically beautiful and emotive piece of dance.
The work is set to a mixture of tracks by Alva Noto & Ryuichi Sakamoto and Hildur Gudnadottir which compliment Lebrun's choreography creating both a sense of drama and vulnerability.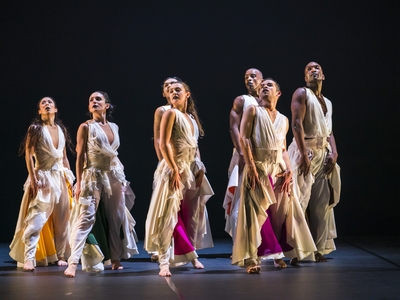 A gripping, at times beautiful spectacle

The Times
Intoxicatingly good, and brilliantly played to boot

The Arts Desk
Staggeringly good, filled to the brim with danger, tension and excitement

British Theatre Guide
Left Unseen is a beautiful, immersive stretch of the contemporary dance imagination

The Culture Vulture
All visitors over 18 (unless medically exempt)must wear face coverings at MAC for the safety of staff and audiences, including in our theatre, cinema, galleries, and in meeting rooms, unless consuming food or drink. Thank you for your co-operation. /// Please read our current Visitor Guidelines before booking your event.