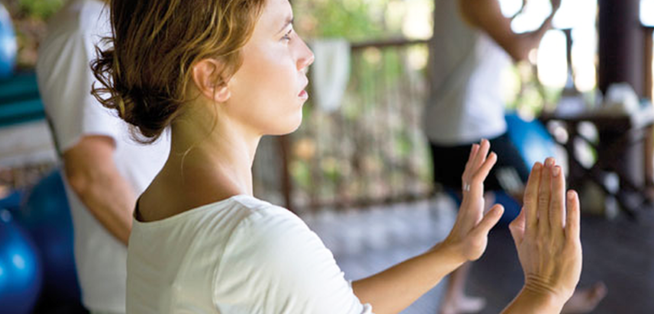 Health, Wellbeing & Fitness
Tai Chi Improvers (WB03 Summer)
Various Dates
Online booking has now closed.
Call 0121 446 3232 to enquire about remaining places
Deepen your practice and understanding of Tai Chi with internal exercises to develop concentration and focus. For students who have completed the beginners course.
What will you learn on this course?
Tai Chi is a Chinese exercise system and martial art. It has been called meditation in movement and people come to Tai Chi for a variety of reasons including relaxation and to improve their balance and health.
There are different styles of Tai Chi. On this course you will learn the Chen Man-Ch'ing form (sequence of 37 moves) which was adapted from the Yang Form (108 moves) in order to meet the need of people in the West who had less time to commit to practice. It is very soft and less overtly martial than other styles.
You will continue to learn Tai Chi stances and exercises and how to practice these using safe and effective posture and technique and in a relaxed manner. Most classes will start with loosening exercises, then you will learn a move or two from the Chen Man Ching form and the class will end with some Chi Gung breathing exercises. In addition you may also do some individual and partnered exercises including Tai Chi walking and push hands.
As an improver you will use your developing knowledge and tutor feedback to ensure correct alignment in your stances. You will learn about external aspects of movement, position, angle, posture and timing. Your tutor will introduce the concept of internal discipline and teach you how to apply concentration and focus to the Tai Chi exercises.
On completion of this course participants will have learnt the last two thirds of the Chen Man-Ch'ing form. The first third of the form is taught in the Beginners class.
Tai Chi has a number of health benefits including improved:
Flexibility
Posture 
Co-ordination
Stamina or cardiovascular health
Balance
Blood pressure levels
Body awareness
Use of intrinsic strength
Who is this course for?
This improvers course is for adults aged 18+ and is suitable for those who have completed the Tai Chi Beginners course and been invited to attend by the course tutor.
Tai Chi is a low impact form of exercise. The course is accessible for people with limited mobility as they can sit down to do some of the exercises and movements are undertaken within the comfort, capability range and limitations of each individual's body.
Do you need to bring anything?
Please wear comfortable clothes that allow free movement.
Are there any additional costs?
There are no additional costs.
Who teaches this course?
Phil Shelton 
---
Please see updated dates in the table below.
| Date | Time |
| --- | --- |
| 27/04/2022 | 7:00pm |
| 04/05/2022 | 7:00pm |
| 11/05/2022 | 7:00pm |
| 18/05/2022 | 7:00pm |
| 25/05/2022 | 7:00pm |
| 01/06/2022 | 7:00pm |
| 08/06/2022 | 7:00pm |
| 15/06/2022 | 7:00pm |
| 22/06/2022 | 7:00pm |
| 29/06/2022 | 7:00pm |
| 20/07/2022 | 7:00pm |
| 27/07/2022 | 7:00pm |