Exhibition
​Common Culture: Common Culture Cabaret
–
In their previous work artist group Common Culture (David Campbell, Mark Durden and Ian Brown) have been drawn to the seductive allure of the culture industry, a space where individual creative ambition is processed as formulaic spectacle. Their new video installation, Vent, specially commissioned for mac, examines popular culture's obsessive fascination with the excesses and indulgences of 'celebrity' and the public's willingness to consume, and participate in, the cruel spectacle of television talent shows. Combining traditions of cabaret with forms of presentation modeled on televisual spectacle they use ventriloquism and impersonation to comically unravel the absurdly narcissistic and confessional nature of celebrity culture and highlight the in-authenticities of the entertainment industry.
Gain further insight into Cabaret and upcoming work from Common Culture in a just published interview with Aesthetica Magazinehere.
We have a selection of books by Common Culture including:Modern Cumbrian Jokes, Tips for Artists and Pop Trauma. Just visit our gift shop to purchase.
Common Culture Cabaret is commissioned by mac birmingham. It has been realised with support from Arts Council England and the University of South Wales, Staffordshire University and Northumbria University.

---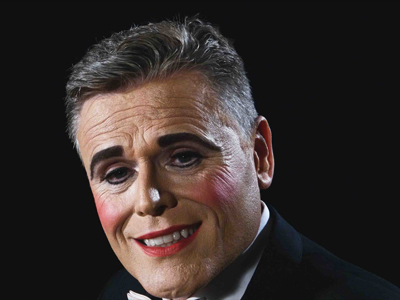 Images below: William Beck
Associated events...