Hidden Voices aims to create safe, compassionate and inspiring environments for female carers in Birmingham within diverse communities, encouraging mutual support and musical creativity. The project is led by MAC and created in partnership with Midland Mencap and Quench Arts, supported by Spirit of 2012's Carers' Music Fund. 
Hidden Voices challenges the barriers to help and assistance that carers from diverse communities can often face and strives to bring about change. It also advocates to the wider arts and cultural sector for greater engagement with, and provision for, carers.

The programme delivers activities and interactive music sessions for a range of existing groups who focus on areas such as mental health, disability and specific cultural communities, while also trying to reach those who may not consider themselves to be carers - including those isolated within their communities, those who are new to the country, and those with their own mental health needs and/or caring for those with mental health needs.
Join our Groups
We're looking for people to join our newest groups, so if you are a female carer in the Birmingham area, please do get in touch by contacting the relevant Midland Mencap representative. Their details can be found at the bottom of each flyer.
Female Carers Who Either Have Or Care For Somebody With Autism
Female Carers Aged 50+
---
Resources
---
Musical Activities for all Hidden Voices Groups
---
Female Carers Who Either Have or Care For Someone With Autism
---
Balsall Heath CATS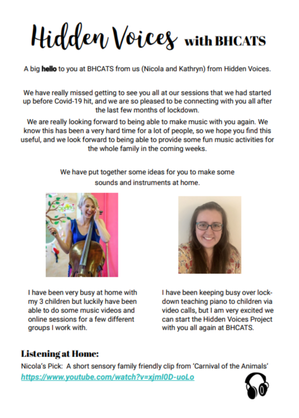 ---
Birmingham Mind
---
Home Group
---
Carers' Week 2020
These short, engaging musical sessions, led by multi-talented artist and Music Leader, Nicole Justice, have been created to enable carers to participate in activities and continue to make music with MAC from the comfort and safety of their homes, whilst our building is temporarily closed.  

---