Alex Lowe, Music Leader
Alex is a drummer and multi-instrumentalist who is passionate about inclusive music making. He works in a range of settings including MACs resident band SWITCH, as well as in Primary and Secondary Pupils Referral Units. Alex's passion is using his experience to help young musicians create original music. 
---
Ann Jones, Music Leader and Trainer
Ann is a facilitator and trainer with over 25 years' experience of working in alternative provision and pupil referral units with young people who have been excluded. She is committed to helping all participants find their musical voice and enabling other musicians to work inclusively. She has a particular interest in women and girl's musical inclusion.

---
Dan Cippico, Music Leader
Dan is an electronic music producer and multi-instrumentalist who facilitates inclusive music-making within a variety of settings. He has had experience in the last three years working with young people primarily in Alernative Provision and CAMHS hospitals.
---
Dan Whitehouse, Music Leader
Dan has worked as a community musician with MAC Makes Music since its inception in 2011, helping to produce the in-house band 'SWITCH'. He studied a PGCert in Community Music from Roehampton University in 2018 entitled 'Sounds Of Intent' – Modelling musical development in children with learning difficulties. A vocalist and guitarist, he's an award winning singer-songwriter signed to 'Reveal Records', songwriting commissions include BBC TV, Arts Council & English Heritage funded projects, TV ads and a film soundtrack for Birmingham Comedy Festival.
---
Daz Adderley, Music Leader
Daz is a guitarist and vocalist with a wealth of experience in Community Music. He has worked with young people of all ages in various settings including Pupil Referal Units, Special Schools and Youth Centres. Outside of MAC Makes Music he fronts an energetic Rock n Roll band and has been known as The Human Jukebox!
---
Kayleigh Kennedy, Music Leader
Kayleigh is a singer and cellist with a passion for community arts and, in particular, inclusive music-making. She especially enjoys working with young people and facilitating the expression of thoughts and feelings through both playing and writing music. In her spare time, Kayleigh is currently attempting to learn the guitar!
---
Kris Halpin, Music Leader
Kris is a singer, songwriter and music technologist. He is also a passionate advocate for accessibility to music, particularly for disabled musicians. Kris has been a close collaborator on Imogen Heap's Mi.Mu Gloves project, and has toured various countries with this groundbreaking piece of technology.
---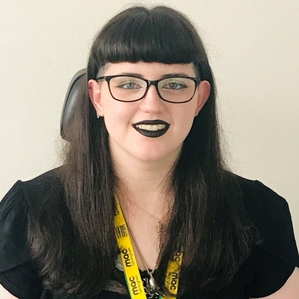 Liz Birch, Music Leader
Liz is a recording artist, vocalist and multi-instrumentalist with an interest in music technology and accessible instruments. Once a participant of community music projects herself, she is now an experienced Music Leader and works on Variety Jam, The Open Mic events, Summer Soundscapes and Creative Sounds. Liz likes working with varying ages and needs.
---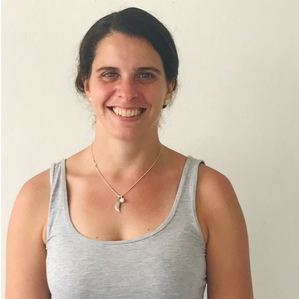 Mariana Rosas, Music Leader
Mariana has been conducting choirs for the past 17 years, and she is passionate about helping people find their voices and use music as a means of communication and personal expression. She enjoys working with people of all ages and abilities. 
---
Nicola McAteer, Music Leader
Nicola is a freelance Community Musician based in Birmingham, UK. Nicola delivers music workshops in a range of community settings and has specialist music workshop skills in early years, mental health, learning and physical disabilities, elderly care and working with asylum seekers and those who have trauma. Niocola is a trained cellist and regularly uses the cello in her workshop practice, and also uses a range of percussion instruments and encourage vocal and non verbal skills.
---
Nicole Justice, Music Leader
Nicole is an experienced music leader who specialises in working with disadvantaged young people. She has worked in a variety of settings including Pupil Referral Units, schools and community centres. Nicole is also a singer, rapper and music producer with over ten years' experience in the industry.  
---
Omar Dickson, Music Leader
Omar is a freelance Sound Engineer, Music Producer and Music Mentor. He has been experimenting with beats since childhood and now works in a professional studio in Birmingham as well as delivering music workshops for young people across the West Midlands. Outside of music Omar is also a keen Martial Artist and 2x world champion kickboxer!
---
Dr Phil Mullen, Trainer and Consultant
Phil Mullen is one of the world's leading experts on musical inclusion. Phil has worked for thirty-five years developing music with people who are socially excluded. He specializes in working with excluded children and young people at risk. Phil has run training workshops and seminars in twenty-seven countries across Europe, North and South America, Australia and Asia.Phil has worked with over 40 Music Education Hubs on inclusion. Phil delivers training and strategic consultancy for MAC Makes Music on a freelance basis.
---
Rodrigo Orquera, Music Leader
Rodrigo is an experienced music leader, multi-instrumentalist, composer and writer who has worked with people of all ages in a large variety of settings (primary schools, college, community services, among others) for over ten years. He is very enthusiastic about art in general and loves making music with others. 
---
Rosie Rushton, Music Leader
Rosie is a music facilitator and researcher based in the West Midlands. Here she has established herself as a specialist in music provision for people with additional needs. When not making music Rosie enjoys painting, camping and the great outdoors!
---
Sam McPherson, Music Leader
Sam is a recording artist and audio engineer. He is also a music facilitator, and runs a business called Maverick Sounds. His music workshops often involve lyric-writing and rapping with the hardest to reach young people, with the aim to re-engage participants back in to mainstream education.
---
Holly Radford-James, Producer
Holly has specialised in working on inclusive music programmes for the past 5 years. She is passionate that everyone should have the opportunity to find their musical voice in a way that suits them, and is proud that MAC Makes Music is helping to make this happen.
---
Jen Loffman, Administrator
Jen has worked in community arts for the last six years. She loves meeting new people and learning about all different styles of music. Although her role is to help keep everybody organised, she makes music in her spare time.
---
---