The Beats Music programme to date has been exploring alternative ways to offer creative music making opportunities for children who struggle to access music in mainstream settings. Music leader, Ann Jones, has been visiting the school weekly since September 2019. Ann has delivered child-centred creative music making in small groups and 1:1, depending on the needs of the children who were present on the day. 
Aims of Beats Music at Yorkswood 
To enhance music provision across the school for those who struggle to engage, while aiming to:
Improve the music and creative skills of CYP, including; 
Ensemble playing 
Exploring different instruments, timbres, and playing techniques 
Creating own music and songs 
Improve CYP's self-esteem, self-efficacy, and confidence 
Improve the quality of CYP's communication and interpersonal/social skills, specifically supporting to express feelings and emotions through music. 
 Improve focus and concentration 
---
What did the music sessions involve?
Lyric & Melody writing 
Musical / Rhythm / Co-ordination games 
Performing & Sharing 
Singing 
Song writing 
Composing & Improvising 
Recording 
Instrumental work
Child led conducting 
Beatboxing & Rapping 
Call & Response 
Soundscapes 
Graphic scores

Examples of genres and themes explored
Ocean fabric & ocean drums 
Snowman stories 
Rap 
Hip hop 
Rock 
Folk 
Classical 
Blues 
Traditional 
Dreams
---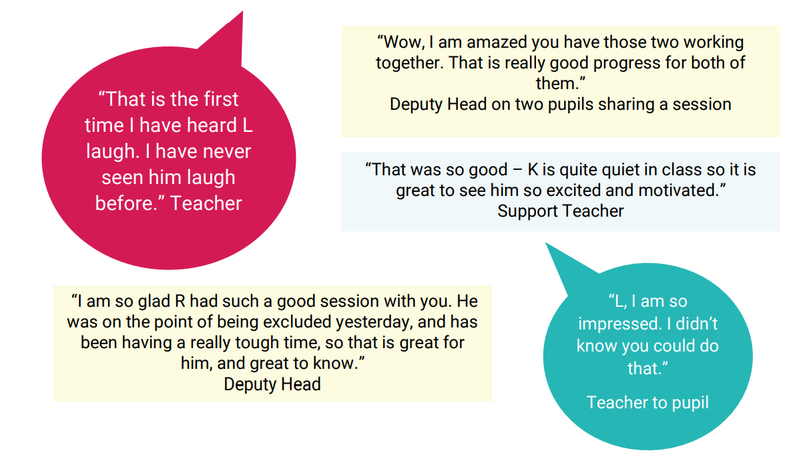 ---
Music Leader Reflective Diary Comments 
"Many children started the term very quiet – one did not speak in class at all, and all became more communicative, in the sessions, and for several out of the sessions."
"Seeing the young people share their new instrument skills with their invited friends at the end of term music party was a great indicator of how much they had gained in confidence." 
"For young people who found it hard to sit for very long, I mixed in physical activities, tasks where we moved around the room, and some seat changing too, so they felt more freedom of movement." 
"These groups were completely new, so bonds and trust had to be built between the young people as well as with me. This was done through a series of child led, participatory music making games, where we got to know each other gently, and could spend time observing what to do, as well as actively participating." 
"Seeing L and D today, both having amazing moments of progress, made for those special moments that make inclusion work so worthwhile. To see a sudden shine, motivation and pure enjoyment. Fabulous." 
"The Magic conducting stick was very popular here, and the groups loved learning about controlling dynamics, and texture of pieces by leading." 
---
Lyrics
---
Pupil Comments
---
Participant Case Study
One participant, L, found it very hard to focus at first. He was distracted, and struggled to hold his attention on any particular activity at a time. Ann quickly identified his love for music which she used to help him develop his ability to focus. She showed him how to play 'Baby Shark' on the piano, and he proceeded to memorise it and explore playing in different octaves on his own. He continued exploring the music outside of the session and independently produced his own medley of Jaws and Baby Shark on an iPad app in his spare time. By nurturing his interests, Ann helped him realise his musicality and stablish a real sense of self efficacy. His Teaching Assistant, Lianne, said 'that is the first time I've heard L laugh'. 
---
---