News
mac Birmingham ranks top ten in Soil Association food and drink survey
Thu 20 October 2016
A new league table conducted by the Soil Association as part of their Out to Lunch campaign, ranking family food and drink choices at the UK's top visitor attractions has placed mac birmingham 9th among a list of 20 organisations across the country, including the Eden Project (1st) and Chester Zoo (2nd). Each attraction was visited by 'secret diner' parents, in addition to venues completing a detailed questionnaire of their menu ingredients.
mac scored top marks for offering creative meat-free dishes for adults, which make up 50% of its menu including Courgetti Bolognese and Asian Spiced Salad. mac was also commended for its pricing of meat free options, which were cheaper, encouraging diners to choose healthier and more sustainable meals. Additionally, it was noted that mac offered healthy snacks within the café and at their express till, alongside fresh fruit and a free water fountain, which at child height made it easy for younger customers to access. mac's 'breastfeeding welcome' policy was appreciated.
In order to improve the café menu further for children, it was suggested that within macs lunch boxes for children, vegetables could be included. Currently, children have the choice of five items costing £4, including half a sandwich (vegetable choices and meat), accompanied with a fresh fruit salad, a yoghurt, a carton of juice, a Babybel cheese or Dairy Lea triangle and juice box. mac now offers vegetable and salad pots alongside their fruit salad pots. mac was also encouraged to offer farm assured meat.
Deborah Kermode, Chief Executive and Artistic Director at mac birmingham said: 'We're delighted that we have made the top 10 of the Soil Association's Out to Lunch survey. At the heart of mac is our ethos that we are open for everyone, which extends to welcoming visitors to our building, alongside our catering offer. As we serve such a diverse community it was important for us to have an independent review of our café service. We look forward to working alongside the Soil Association, so that we can further improve our offer for families.'
Visitor attractions further down the rankings were criticised for their choice of sugary drinks, products that included E numbers and lack of fruit and vegetables in their children's menus.
Rob Percival, Soil Association Policy Officer said: 'Visitor attractions are making life hard for parents who want to enjoy a healthy and happy day out. Lunchboxes loaded with sugar and unimaginative ultra-processed foods are the norm. So long as junk-filled lunch boxes continue to dominate family outings, parents will have a hard time convincing their children that healthy food can be a treat too.'
The Out to Lunch campaign is calling on attractions to take five simple steps to improve the food and experience they offer to children and families:
1. Ensure that all children's lunchboxes and main meals include a portion of veg or salad
2. Ditch unimaginative ultra-processed foods and focus more on fresh ingredients
3. Protect parents from an over-abundance of sweet treats, which make it harder to enjoy a healthy and happy day out
4. Make free fresh drinking water available to families throughout their visit
5. Support British farmers by buying the best of British produce, including organic
mac offers breakfast, lunch and dinner from 9am to 8.15pm daily. You can view the full menu here.
For Soil Association media enquiries, please contact: Hayley Coristine, Press Officer on: 0117 314 5170 / 0746 869 3558 – hcoristine@soilassociation.org
For mac press enquiries please contact Marcia Springer, Senior Communications Manager on 0121 446 3237 or email marcia.springer@macbirmingham.co.uk
Soil Association Survey Results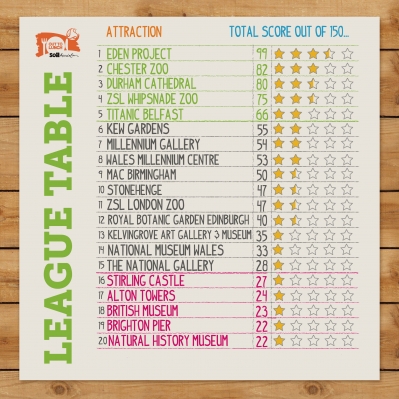 We're delighted that we have made the top 10 of the Soil Association's Out to Lunch survey. At the heart of mac is our ethos that we are open for everyone, which extends to welcoming visitors to our building, alongside our catering offer. As we serve such a diverse community it was important for us to have an independent review of our café service. We look forward to working alongside the Soil Association, so that we can further improve our offer for families.'

Deborah Kermode, mac Chief Executive and Artistic Director