News
The red carpet is calling...
Fri 4 January 2019
It's that time of year when cinema comes alive with films that have 'awards season' written all over them. And here at MAC we reckon this little lot are strong contenders… so come and join us for some must-see movies on the big screen.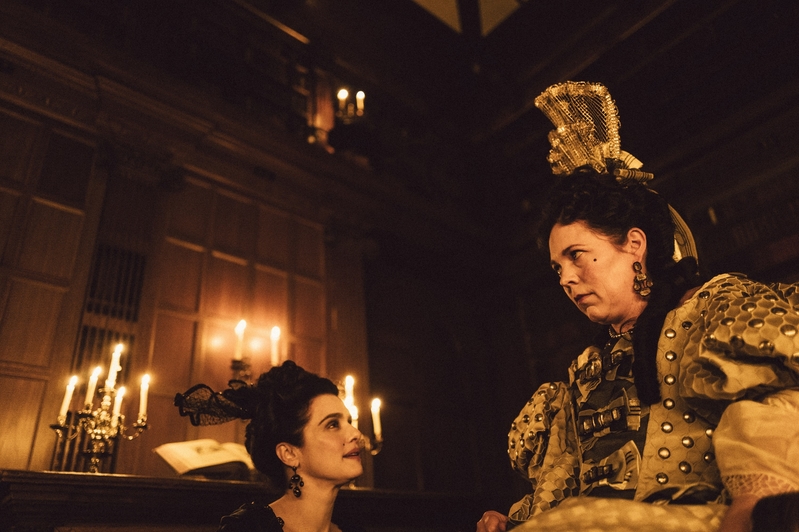 The Favourite 
Funny, dark and gloriously odd, The Favourite is the new film from acclaimed director Yorgos Lanthimos (The Lobster, The Killing Of A Sacred Deer), its beautifully strange comedy heightened by a career best performance from Olivia Colman as a monarch losing her marbles and a twisted double act from Weisz and Stone. 

Sorry To Bother You
Boots Riley's debut feature film is an off-the-wall, dystopian black comedy that doesn't slow down for a moment. Lakeith Stanfield stars as Cassius Green, a down-on-his-luck guy who jumps on an opening at a telemarketing company, where he quickly learns that he'll improve his sales by utilizing his 'white voice,' and proceeds to become a power caller. But what is he even selling?
Beautiful Boy 
Based on the critically acclaimed 2008 memoir Beautiful Boy: A Father's Journey Through His Son's Addiction by David Sheff, this is a harrowing film about a father's torment at witnessing his son's downward spiral, succumbing to the effects of crystal meth and heroin. Actors Steve Carell and Timothée Chalamet excel in the roles of David and his son Nic as they take us on a journey of love, pain and hope.
Mary Queen of Scots 
Mary Queen of Scots explores the turbulent life of the charismatic Mary Stuart (Saoirse Ronan). Queen of France at 16 and widowed at 18, Mary defies pressure to remarry. Instead, she returns to her native Scotland to reclaim her rightful throne - but Scotland and England fall under the rule of the compelling Elizabeth I (Margot Robbie). The sisters are soon caught up in betrayal, rebellion, and conspiracies that will change the course of history.
Green Book 
Set in 1962 America, Green Book follows Italian-American Tony Lip (Mortensen), who is hired to chauffeur African-American pianist Dr. Don Shirley (Ali) on a concert tour through the Deep South. Don is aware of the troubles that he might face in different locations due to the colour of his skin and although Tony is by no means an obvious choice, the unlikely pair embark on a road trip that's bound to change both of their lives.  
The Mule
Clint Eastwood further cements his status as one of the greatest movie stars of all time by directing and starring in this film. Eastwood stars as Earl Stone, a man in his 80s who is broke, alone, and facing foreclosure of his business when he is offered a job that simply requires him to drive. Easy enough, but unbeknownst to Earl, he's just signed on as a drug courier for a Mexican cartel…  
The Wife 
Joan Castleman has spent 40 years sacrificing her own talent, dreams and ambitions to support her charismatic husband Joe and his stellar literary career. Ignoring infidelities and excuses made in the cause of his art, she has put up with his behaviour with undiminished grace and humour. However, Joan has reached a turning point. Based on the bestselling book by Meg Wolitzer, the film is a poignant, funny and emotional journey, a celebration of womanhood, self-discovery and liberation.  
A Private War 
In a world where journalism is under attack, Marie Colvin (Rosamund Pike) is one of the most celebrated war correspondents of our time. Colvin is a fearless and rebellious spirit, driven to the frontlines of conflicts across the globe to give voice to the voiceless. Along with renowned war photographer Paul Conroy (Jamie Dornan), she embarks on the most dangerous assignment of her life in the besieged Syrian city of Homs. 
Black 47 
A powerful revenge thriller set in Ireland during the Great Famine of 1847. The film follows an Irish Ranger who abandons his post, fighting the British, to return home. Seeing the destruction of his home and the brutalisation of his people sparks a bloody crusade in this pointed observation of the period's political events.  
A Star Is Born 
In this new take on the iconic love story, four-time Oscar nominee Bradley Cooper makes his directorial debut, and also stars alongside music superstar Lady Gaga in her first leading movie role. Cooper portrays seasoned musician Jackson Maine, who discovers and falls in love with struggling artist Ally. She has given up on her dream to become a successful singer, until she meets Jack, who immediately sees her natural talent.  
Peterloo 
From award-winning British director Mike Leigh comes an epic, critically acclaimed portrayal of the events surrounding the infamous 1819 Peterloo Massacre, where a peaceful pro-democracy rally at St Peter's Field in Manchester turned into one of the bloodiest and most notorious episodes in British history. The massacre saw British government forces charge into a crowd of over 60,000 that had gathered to demand political reform and protest against rising levels of poverty. Many protestors were killed and hundreds more injured, sparking a nationwide outcry but also further government suppression.
If you like film, you'll love…
4K Film: Remastered
2019 sees MAC host a season of film across the year dedicated to screening cinematic classics in remastered 4K digital prints, offering stunning picture clarity and a chance to see well known features in a completely new light. And what better way to begin than with two true masterpieces of cinema – Lawrence of Arabia and Gone With The Wind? See them as they were screened on their original release, complete with intermission, overture and exit music.