News
Full Cast Announcement for MAC's Christmas Show Kipper's Snowy Day
Tue 22 October 2019
The full cast list has now been announced for Kipper's Snowy Day, a heart-warming production by Slot Machine Theatre which will be heading to Midlands Arts Centre from Tue 26 November until Tue 31 December this year.
As a favourite storybook friend to generations of children, Kipper the Dog is now starring in his own original, musical Christmas stage show, perfect for children aged 3+ and their families!
Created by award-winning author Mick Inkpen, the Kipper stories have been adapted into the first-ever stage production which will be brought to MAC this Christmas, filled with original songs and music, gorgeous puppetry and gentle humour for the whole family to enjoy.
"Kipper's Snowy Day is the perfect family show for Christmas, and it's one of our favourites," says Nick Tigg, Co-Artistic Director at Slot Machine Theatre.
"Casting is always tricky - there are different levels you're trying to achieve, so first of all you need performers who have the basic skills required, which in our case are quite numerous: we need to get an idea from that person that they can play the character we want them to play, they need to have some spark of that character, in Kipper's case, a relentless optimist and generally enthusiastic person/dog; they need to be able to puppeteer, and not just puppeteer but be able to handle huge puppets - the puppets in the show are almost 5ft tall. 
"The actors also need to be able to move really well, there's a lot of leaping around in the show - they really throw themselves around, and they've got to be fit enough to do that. Then, they need to be able to sing, which not everyone can. Finally, they need to be really, really nice!
"We try to only work with really nice people, because when you're casting something, you're not just casting people individually, you're putting together a company, they have to work very, very closely together for a couple of months. It's like a small family, so the nicer and more generous everyone is, the more chance they'll get on and have a nice time. There's nothing worse than being in a company where people don't get on...
"When I say the cast work very closely together, I mean closely - sometimes you have all three of the cast operating one puppet. If you're going to make that sort of commitment, it helps that you get on with the people you're tying yourself in knots with!"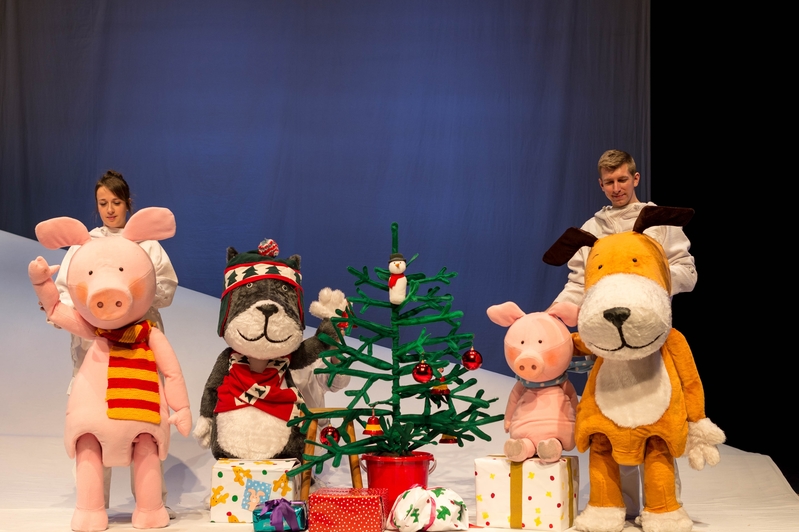 The Cast
Kipper will be brought to life on stage by Olugbeminiyi Bammodu, a London-based actor with a background in stage and street theatre. Having trained at East 15 Acting School in Essex, Olugbeminiyi's previous credits include Filter (The Paper Birds), Crack/ed (HiddenViewz), Panedmonium (East 15 Acting School) and Black Love Matters/Under the Mental Health Act (HiddenViewz).
Derby-based actress Lucy Clarke will be playing the roles of Tiger and Arnold this Christmas at MAC. Having previously worked in short film, comedy, Shakespeare, voice-over, plus physical and interactive theatre, Lucy will be bringing her wealth of experience to Kipper's Snowy Day.
Previous credits include The Wonderful Wizard of Oz (Leicester Square Theatre), Underbelly (Edinburgh Fringe) and The Warren (Brighton Fringe). Lucy has also run numerous workshops for Oddsocks and The Young Shakespeare Company and has studied Puppetry at Little Angel Theatre.
Nicola Blackwell, Co-Artistic Director of Slot Machine Theatre, will be acting in the role of Pig. Nicola is a performer and theatre-maker, with work spanning across acting, design and direction.
Her previous performing credits include Market Boy (National Theatre), Herge's Adventures of Tintin (Barbican and West End), Strike Gently, Away From Body (Young Vic), You Hang Up First (Contact, Manchester) and The Sound Collector (Sheffield Crucible).
In design, Nicola has created set and costumes for Down By the Greenwood Side (Brighton Festival), Létoile (New Sussex Opera), Boom (Theatre 503), Kipper's Snowy Day, Your Toys, The Boy, The Piano and The Beach (Slot Machine Theatre).
Her direction credits include On War, Alfred (Young Vic Shorts), The Tribunal (Inroads Productions), The Hit (site-specific for Indigo Hotels), One Snowy Night, Miki (Slot Machine Theatre).
Kipper's Snowy Day Drawing Competition
We will shortly be announcing our drawing competition open to children and families, with the prize of tickets to see Kipper's Snowy Day for one lucky winner! Award-winning illustrator Mick Inkpen – the creator of Kipper the Dog - will be judging the drawing competition.
To enter, children must draw a picture of their favourite thing about Christmas (presents, cake, spending time with family) and share it on social media by tagging @mac_birmingham and using the hashtag #kipperatmac.
Mick Inkpen will select a winner, who'll be gifted 4x tickets to the show this Christmas! A promotional video and copy will be provided to press soon for release. The deadline for the competition will be 15 November 2019.