News
MAC Interviews: Amelia Pimlott, Puppet Builder for Kipper's Snowy Day
Mon 2 December 2019
Kipper's Snowy Day has just finished the first week of its run at MAC. Featuring gorgeous puppetry, original songs and gentle humour, the show has been delighting audiences aged 3+. 
We asked Amelia Pimlott, the puppeteer behind the wonderful Kipper, Tiger, Pig and Arnold puppets gracing our stage for this winter, about the process of making these bespoke creations based on Mick Inkpen's illustrations.

Tell us a little about your background…
I studied Theatre Design at Nottingham Trent University and one of my tutors was really into puppetry, which inspired my own interest. I ended up doing a placement at Norwich Puppet Theatre and it's all grown from there. I have lectured in theatre design and co-founded The Ding Foundation, a theatre company which brings music, physical theatre and puppetry to adults. As you can imagine, this is sometimes a hard sell!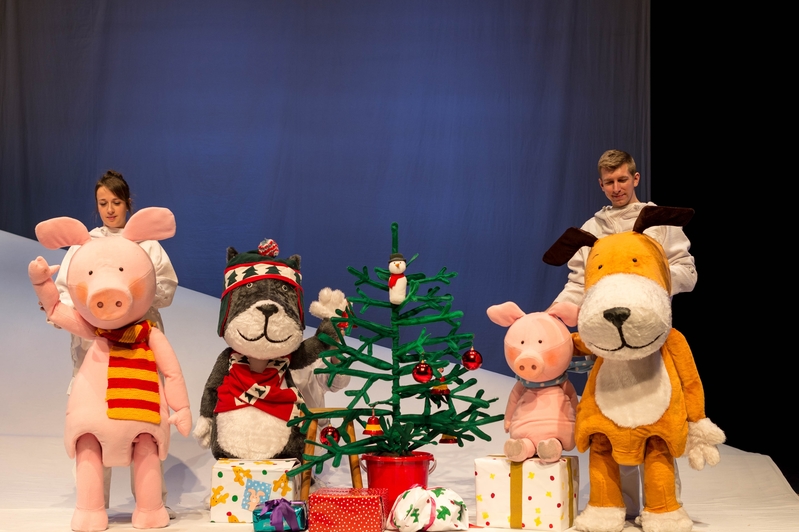 When you're making a puppet, do you mainly work from your own initiative or do you have a lot of input from the people who've commissioned it?
The beauty of The Ding Foundation is that I get to work on a lot of things that are my own. When I'm collaborating with an organisation I definitely take a lot of their input on board. With Kipper, working from the illustration was obviously very important to ensure the characters onstage look like those in the book.
Can you tell us a bit more about the story behind making Kipper?
It's been interesting! I've worked with Slot Machine Theatre before, and they had a lot of ideas before about how they were going to do this, first I think entertaining the idea of a standard, smaller puppet show before realising that wasn't going to work. The shift from 2D puppets to 3D puppets has been both different and difficult.  My partner is a sculptor and we started off making little plasticine models before starting on the real thing. When you're working with relatively simply-designed characters there's not a lot of scope to go wrong so I really did have to work on making sure they looked right at every angle.
What's Kipper made out of?
Polystyrene and sponge!
For 'Kipper's Snowy Day' MAC are staging both BSL and Relaxed performances. The puppets are big and can move their limbs which is really endearing and attractive. Did you think about accessibility to different audiences when designing these puppets?   
 This wasn't necessarily in my mind when creating Kipper, but I do think puppetry in general can be very otherworldly. In puppetry you're asking the audience to believe that something that isn't real, is real. I think cartoons can be attractive in the same way.
I once received some really beautiful feedback from a show I was working on at Norden Farm Arts Centre. The family of a boy with autism who generally found it very difficult to settle in an audience setting reached out to me to say that he had sat enthralled during the whole performance, and even went to meet the puppet afterwards. I think in that way puppetry can be very accessible and reach places naturalistic theatre can't.
'Kipper's Snowy Day' will be showing at MAC until 31 December. For more information on Relaxed & BSL Performances and tickets, please click here.