SWITCH is MAC's very own band-in-residence, made up of a group of young musicians who work alongside professional music leaders to write songs, play instruments, sing and learn about the many aspects of music production. They have an increasing repertoire of original songs, enjoy regular performance opportunities at MAC and beyond, and have created a music video for their signature tune: "Switch on Your Happy Side"
2018 Highlights
It's been quite a year for SWITCH - from a successful summer gig, to their first performance in the capital, as well as introducing some new faces!
SWITCH Sunset
SWITCH launched MAC's outdoor arena Summer programme with their SWITCH Sunset gig, sharing the stage with Sandwell-based band, The Warriors.
They performed old favourites from Courage to Care to Makes Me Stronger mixed with new tracks such as Key to Paradise from their new album SWITCH Sunset which they also launched that evening.
Birmingham is not the limit….

SWITCH were invited to perform at The Squidz Club in Londonn at an event organised by the charity, Heart n Soul who support young people with learning disabilities. 
This was SWITCH's first performance outside of Birmingham and a big opportunity for the band, proving that barriers are being broken and for them the sky is the limit to what they can achieve.

Positive Changes
SWITCH welcomed two new band members who have brought their own flair to the band keeping in tune with a positive spirit and enthusiasm for music.
SWITCH on the BEAT

As the year draws to an end, SWITCH are keen to go out on a high note with their Christmas gig, SWITCH on the BEAT - get your tickets here!
Introducing SWITCH
Gurpreet
I am the drummer for SWITCH. I love jamming and performing with the band.
Karl
I really enjoy SWITCH. I play different instruments like lead guitar, drums, bass and percussion. I enjoy recording and performing.
Nashita
I am one of the lead singers and play electric guitar. I like recording and performing.
Ryan
I have been playing piano for about 3 years. SWITCH has inspired me and I can now play in time with the band. I've really improved since joining SWITCH.
Xian
I am a lead singer for SWITCH. I write songs and enjoy performing. I enjoying creating music videos like "Switch on Your Happy Side". I am also SWITCH's rapper.
Azim
I am a rapper, singer and incredible lyric writer. My rapping nick name is Badshaah Bling. I can rap in 3 different languages. I am the newest member of SWITCH.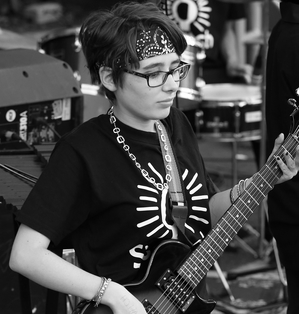 Eve
I am Eve
Making music is my passion

Guitar is what I play

KRRRRAAANNNNNGGG
Stephen
I play lots of instruments in the band. I like playing the guitar a lot and the piano. I like being in the group. 
---
"That was the best gig I've seen in years. Honest, no pretention and great music.''

Audience member
What you are creating here is something quite unique and different... the concert was amazing."

Participant's Mother
Tracks by SWITCH
Switch on your happy side!