Naturally, as an arts centre we really know how to manage an event! But did you know that we've also played host to all kinds of social occasions including wedding receptions, anniversary and birthdays? 
We love a challenge and can provide dynamic spaces, technical know-how and lots of personal touches to make your event a special and memorable occasion for you and your guests.
Please note that all food and drinks must be purchased from Midlands Arts Centre.
---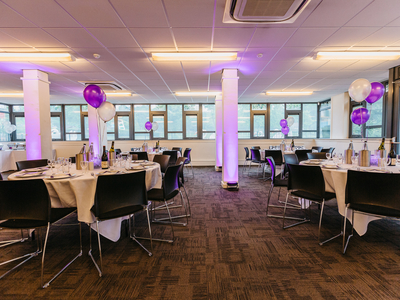 ---
Damien was fantastic from the beginning; he listened to our ideas and we were able to come up with a really unique wedding, just for us.  From the space layout to the food, everything was exactly what we wanted and how we imagined. The entire team was extremely attentive and made sure we had exactly what we needed. Damien even waited for me to arrive, made sure my father and I had welcome drinks and also a moment to relax before the wedding started. Despite some unforeseen changes to the schedule, Damien managed to make sure it was as stress free as possible and adapted everything as necessary. Overall, we had a magical day and we would 100% recommend the MAC for a bespoke, unique and personalised wedding.

Hannah & Dray - July 2022
Wendy and I wanted to write and thank you properly for all the help … you and all the staff at MAC were brilliant, the room looked absolutely stunning and the food was prepared and presented just as we had imagined. 

Laurence & Wendy Hurst
---
Technical Services
Our in-house experts can help with any technical requirements, including access to state-of-the-art projection, sound, lighting and live streaming facilities. We can also offer full stage management and production support for your event. 

---
---
Available Rooms
Available rooms for Functions & Parties

Available Rooms

Max. capacity

Book link

Garden Studio

The Garden Studio is a tranquil and flexible meeting space adjacent to our Outdoor Theatre, looking out onto our Pocket Garden making it a discreet space for a successful event.

50

More Info

KILN Restaurant

FREE ROOM HIRE! Our newly refurbished KILN restaurant has an airy and relaxing atmosphere to give your event a contemporary feel.

100

More Info

Performance Studio

This dance studio is an ideal venue for a hospitality event. Perfect for a stylish evening reception, it has a sprung floor so your guests can dance the night away!

120

More Info

Randle Studio

The Randle Studio is perfect for dinner or hospitality events. The large windows are a great feature, and allow for stunning views over Cannon Hill Park and the River Rea.

100

More Info

English Studio

The English Studio is quirky and unique, with large windows allowing for stunning views over Cannon Hill Park and the River Rea.

100

More Info

Pinsent Masons 2

Pinsent Masons Room 2 is perfect for small boardroom meetings or sit down dinners. This room is fully equipped, spacious and multi-functional.

30

More Info

Foyle Studio

The Foyle Studio is one of our newest and largest studio spaces. As an attractive modern space with great views, it is the ideal venue for a party or reception.

175

More Info

Theatre

​One of our larger spaces, the Theatre comes equipped with the latest in lighting and sound technology, making it an ideal venue for a larger social occasion.

219

More Info

Deloitte Room

The Deloitte Room is an attractive room with large windows. Conveniently situated next to the Arena bar, and with catering offered inside the space, it is ideal for private parties and functions.

85

More Info

Pinsent Masons 1

​This large, bright, and airy space is a fantastic venue. The room boasts lovely views over the River Rea and its wooden ceilings and unusual architectural structure make it a unique space.

60

More Info

Bryant Room

With sweeping views over Cannon Hill Park and original 1960s architecture, the Bryant Room is an unusual and charming space for your event.

30

More Info