Naturally, as an arts centre we really know how to manage an event! But did you know that we've also played host to all kinds of social occasions including wedding receptions, anniversary and birthdays? 
We love a challenge and can provide dynamic spaces, technical know-how and lots of personal touches to make your event a special and memorable occasion for you and your guests.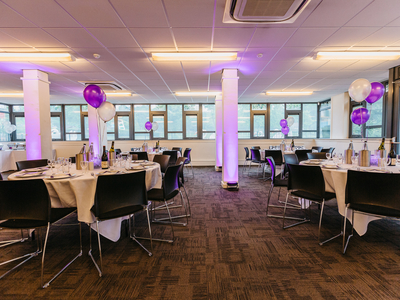 Wendy and I wanted to write and thank you properly for all the help … you and all the staff at MAC were brilliant, the room looked absolutely stunning and the food was prepared and presented just as we had imagined. 

Laurence & Wendy Hurst
Technical Services
Our in-house experts can help with any technical requirements, including access to state-of-the-art projection, sound, lighting and live streaming facilities. We can also offer full stage management and production support for your event. 

---
For a quick look at the spaces we recommend for functions and parties, see the table below.
These are fantastic, cheaply priced function rooms available for hire in the heart of Birmingham. Whether you're looking to hire a party venue, a function room for a birthday - our rooms and venues are perfect to fulfill your requirements.
Our function rooms come in a wide array of shapes and sizes, meaning that we can accommodate parties of varying numbers. We have a number of different options available, so get in touch today to find out more!
Available Rooms
Available rooms for Functions & Parties

Available Rooms

Max. capacity

Book link

Performance Studio

This dance studio is an ideal venue for a hospitality event. Perfect for a stylish evening reception, it has a sprung floor so your guests can dance the night away! Capacity: 0-120

120

More Info

Randle Studio

The Randle Studio is perfect for dinner or hospitality events. The large windows are a great feature, and allow for stunning views over Cannon Hill Park and the River Rea. Capacity: 0-90

100

More Info

English Studio

The English Studio is quirky and unique, with large windows allowing for stunning views over Cannon Hill Park and the River Rea. Capacity: 0-90.

100

More Info

Pinsent Mason 2

Pinsent Masons Room 2 is perfect for small boardroom meetings or sit down dinners. This room is fully equipped, spacious and multi functional. Capacity: 0-30.

30

More Info

Foyle Studio

The Foyle Studio is one of our newest and largest studio spaces. As an attractive modern space with great views, it is the ideal venue for a party or reception. Capacity: 0-175.

175

More Info

Theatre

​One of our larger spaces, the Theatre comes equipped with the latest in lighting and sound technology, making it an ideal venue for a larger social occasion. Capacity: 0-219.

219

More Info

Deloitte Room

The Deloitte Room is an attractive room with large windows. Conveniently situated next to the Arena bar, and with catering offered inside the space it is ideal for private parties and functions. Capacity: 0-85.

85

More Info

Pinsent Masons 1

​This large, bright, and airy space is a fantastic venue. The room boasts lovely views over the stream and its wooden ceilings and unusual architectural structure make it a unique space. Capacity: 0-60

60

More Info

Bryant Room

With sweeping views over Cannon Hill Park and original 1960s architecture, the Bryant Room is an unusual but charming space for your event. Capacity: 0-30.

30

More Info