Here at MAC we have thought of everything for you in our all-inclusive day delegate rate packages which are available across all our fantastic spaces. We offer 4 different day delegate rates to cater for all budgets starting from £25.00 per person (ex vat)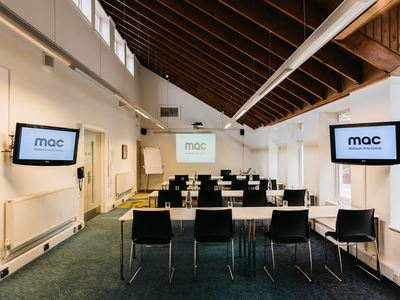 Minimum number applies for each spaces. Download the document below for full details.
Discounted rates apply for charities, third sectors, education and government departments. Ask us for more information.
We reserve the right to allocate the most suitable room based on room availability, attendance and the room layout.
Click here to download more information in a handy PDF.
---
Bronze package: £28.50pp +VAT
Room hire between 9am and 5pm
Projection or LCD screen with sound system and computer
Flipchart and Wi-Fi
3 servings of tea, coffee and biscuits throughout the day
---
Silver package: £36.50pp +VAT
Room hire between 9am and 5pm
Projection or LCD screen with sound system and computer
Flipchart and Wi-Fi
3 servings of tea, coffee and biscuits throughout the day
Finger buffet 2 with orange juice
---
Gold package: £39.50pp +VAT
Room hire between 9am and 5pm
Projection or LCD screen with sound system and computer
Laptop, flipchart, Wi-Fi and stationery
Tea, coffee and pastries on arrival
Tea, coffee and biscuits mid-morning
Tea, coffee and biscuits mid-afternoon
Finger buffet 3 with orange juice
---
Platinum package: £47.50pp +VAT
Room hire between 9am and 5pm
Projection or LCD screen with sound system and computer
Laptop, flipchart and Wi-Fi
Tea, coffee and hot breakfast on arrival
Tea, coffee and biscuits mid-morning
Tea and coffee with lunch
Tea, coffee and cakes in the afternoon
Finger buffet 4 with orange juice